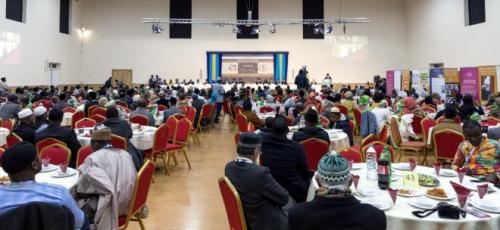 The Pan-African Ahmadiyya Muslim Association (PAAMA) hosted its first ever Africa Peace Symposium on Saturday 21 October at the Baitul Futuh Mosque in London under the guidance and tutelage of His Holiness, Hazrat Mirza Masroor Ahmad, the Worldwide Spiritual and Administrative Head of the Ahmadiyya Muslim Community.
The event which had Unity in Diversity as its theme and was fittingly attended by parliamentarians, diplomats, community and civic leaders and people from all walks of life, explored how religion can unite rather than divide humanity, promote a deeper understanding of Islam and other faiths and inspire a concerted effort for lasting peace among people of African origin.
The symposium was addressed by various dignitaries including Her Worshipful, Councillor Marsie Skeete, Mayor of Merton; Mrs Rita Tani Iddi, Deputy High Commissioner for the Republic of Ghana; Her Excellency, Dr Justina Mutale, Founder CEO Justina Mutale Foundation; His Excellency Julius Peter Moto, High Commissioner for the Republic of Uganda; and Lord (Tariq) Ahmad of Wimbledon, Minister of State at the Foreign and Commonwealth Office, who delivered the keynote address.
Mr Rafiq Ahmad Hayat, National President of the Ahmadiyya Muslim Community UK, gave the concluding remarks during which he also presented a special message from His Holiness, Hazrat Mirza Masroor Ahmad.
Addressing the attendees of the Africa Peace Symposium, His Holiness said:
"In today's world, such functions have taken on an even greater importance because the world is passing through a period of increasing instability and conflict and, as a result, the peace of the world is lessening day by day.
"Indeed, it cannot be said that any continent is free from the effects of this growing turmoil. Thus, I pray that Allah the Almighty grants wisdom to the people of the world so that instead of moving rapidly towards destruction and catastrophe, people come to realise the need to step back from the abyss and seek to build bridges of love and peace in society.
"However, this will not be possible until all nations and continents, whether it be North or South America, Australia, Europe, Asia and indeed all of Africa are willing to work together for the common good of mankind…
"The African continent is vast and it has boundaries with both Asia and Europe and so it is imperative that the African people realise their great status and importance to the rest of the world. Each African tribe or race and indeed each individual person must understand his or her responsibilities and duties to their nation and to the wider world.
Sadly, even now, much of the world considers African nations to be poor, destitute and without value, however, I firmly believe that Africa has huge potential and a great status."
Prior to the event guests were given a tour of the prestigious Baitul Futuh Mosque – the largest mosque in Western Europe – and a walk through various exhibitions showcasing Islam and the glorious history of Africa as well as the charitable endeavours of Humanity First, the Ahmadiyya Muslim Community's charity organisation and the International Association of Ahmadi Architects and Engineers (IAAAE) who work to provide renewable energy solutions and clean drinking water to remote parts of Africa.
Read full article here.