Event time:
Thursday, November 16, 2017 - 4:30pm
Event description: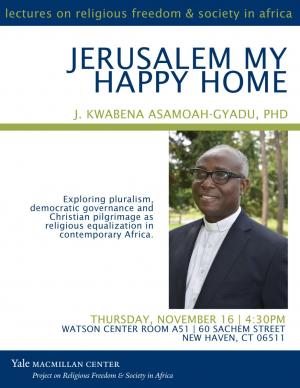 Exploring pluralism, democratic governance and Christian pilgrimage as religious equalization in contemporary Africa. 
J. Kwabena Asamoah-Gyadu PhD (Birmingham, UK, 2000) is Baëta-Grau Professor of Contemporary African Christianity and Pentecostal Theology and Vice President of the Trinity Theological Seminary, Accra, Ghana. He has served as visiting scholar to a variety of esteemed international institutions. Prof. Asamoah-Gyadu is a member of the Lausanne Theology Working Group and is author of African Charismatics; Contemporary Pentecostal Christianity; Sighs and Signs of the Spirit; co-editor with Kenneth Ross and Todd Johnson, Christianity in Sub-Saharan Africa; and co-editor with Frieder Ludwig of African Christian Presence in the West. He is lead editor of Between Babel and Pentecost: Migrant Readings from Africa, Europe and Asia. Kwabena Asamoah-Gyadu has many articles in international journals relating to Christianity as a non-Western religion.
Thursday, November 16 | 4:30 PM
WATSON CENTER ROOM A51
60 SACHEM STREET
New Haven, CT 06511