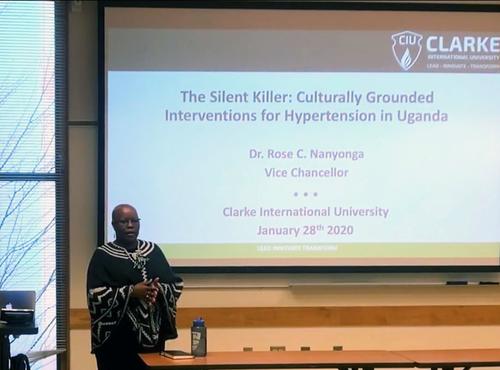 January 28, 2020. Rose C. Nanyonga (PhD'15), Vice-Chancellor of Clarke International University, Kampala, Uganda, presented her findings from a recently concluded study on nurse-led interventions for the reduction of hypertension and other non-communicable diseases (NCDs). 
In Uganda, NCDs cause an estimated 33% of deaths (WHO, 2018). Hypertension is the most prevalent NCD and the most modifiable contributor to cardiovascular disease, the leading cause of mortality globally. Studies have shown that low adherence to lifestyle modifications increases the likelihood of adverse health consequences related to hypertension.
Her study was designed to evaluate nurse-led interventions to increase lifestyle modification adoption of patients with hypertension to improve long-term, individual patient hypertension outcomes and collectively achieve the related United Nations Sustainable Development Goals.
More than a half (56.2%) participants had previously used alternative medicine, whereas more than one in four (28.6%) were currently using alternative medicine alone or in combination with modern medicine (50%).
Nanyonga said the study showed the importance of shared learning among the Ugandan participants. The participants trusted people they knew. The study cohorts shared that group experience proved to be invaluable to making a significant modification to their lifestyle.
Participants highlighted the social impact of hypertension. One participant explained the social implications of hypertension requires something akin to a Gwanga mujje. In Luganda, Gwanga mujje means "make a loud noise" and is the name for the alarm drum that warns people in the event of an emergency.
Second, the study illustrated the importance of exploring existing knowledge in various communities. This recognition of indigenous knowledge is a significant step for deeper engagement between health care practitioners and the local community.
Third, integrate interventions into cultural and recognizable norms and practices. As an example, an elder participant mentioned that for religious holidays he practiced okudizza, that is, giving back. Traditionally, elders are given the biggest and best piece of meat by their grandchildren. In this instance, the grandfather, mindful of the need to eat smaller portions, gave back (okudizza) to his guests a portion of the meat, thereby redefining a traditional practice in a manner conducive to a healthy lifestyle.
Finally, Dr. Nanyonga related a recent visit to a village for the funeral of a colleague's family member. As they departed the funeral, she observed that several herbalists had set-up stalls along the road from the cemetery. Many funeral attendees visited these stalls. Her observation of local practice reinforced several statements made by the study cohort—that people trust people they know and who they know is often the herbalist who is their neighbor and attends funerals of their family members. Primary health care specialists have limited contact with the local communities. To overcome the constraints of their limited contact, they will need to harness community networks of relationships, which include the herbalist and local religious leaders.
(Lori Spies (Baylor University) and Florence Nakaggwa (Clarke International University) were co-researchers on this study funded by a grant from Baylor University.)