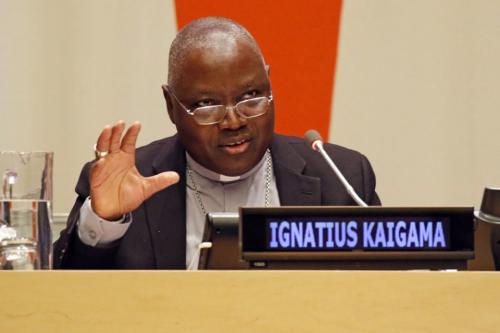 Archbishop Ignatius Kaigama of Jos, Nigeria, spoke to the United Nations March 1 as a representative of the church in a nation where Boko Haram has captured and terrorized hundreds of Christian schoolgirls.
Upon his return to Nigeria, Kaigama was subsequently appointed coadjutor of Abuja, the capital, where he will succeed Cardinal John Olorunfemi. While in New York before his new appointment, Kaigama painted a picture of a country not only confronting strife between Christians and Muslims, but also on the frontlines of climate change and economic inequality, with a church committed to upholding what he described as traditional values in the face of Western encroachment.
"Sanity not sentiment must prevail in matters of religion," he told the United Nations International Religious Freedom panel discussion. The former president of the Catholic Bishops Conference of Nigeria, Kaigama was invited to speak by the Vatican's mission to the United Nations, where he urged member governments to appoint ministers of religious freedom to monitor progress in guaranteeing religious liberty.
He said that Boko Haram, founded in 2002, lashed out in regular violence seven years later when its founder, Yusuf Mohammed, was killed while in police custody. It has since kidnapped nearly 400 schoolgirls, many of them Christians, in two widely publicized incidences in 2014 and 2018. It has displaced some 3.8 million people and killed over 28,000, said Kaigama.
Christians in Nigeria have long been under attack. In 2012, 14 people were killed at St. Finbar Church in his archdiocese.
While Boko Haram has generated international notoriety, another group representing Fulani Muslims, mostly herdsmen, have instituted a killing spree directed at Christian farmers; last summer, the group killed more than 300 people, said Kaigama.
Read more from the original article here.